Grace Park (Lila Lee)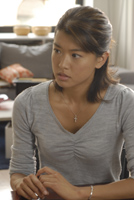 Grace Park is a Canadian-American actress of Korean descent. She is best known as Boomer (and the various iterations of Number Eight, a humanoid Cylon) on Battlestar Galactica, as well as Shannon Ng in the Canadian television series teen soap Edgemont.
Born in Los Angeles, California, Park and her family moved to Canada when she was 22 months old. Grace Park graduated from Magee Secondary in 1992, holds a degree in psychology from the University of British Columbia and speaks English and Korean, along with some French and Cantonese. She was named #93 in Maxim Online's 2006 Hot 100 List.
Park has a role in the movie West 32nd, a gritty, crime thriller dealing with NYC's Korean underworld.
She appeared as Lt. Sandra Telfair in Electronic Arts' Command & Conquer 3: Tiberium Wars, along with her Battlestar Galactica co-star, Tricia Helfer.