Jane Kim (Suki Kim)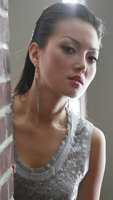 Currently, Jane is costarring in West 32nd Street as Suki. The feature film is directed by Michael Kang, director of the Motel (Official Sundance Selection) and produced by CJ Entertainment and Teddy Zee (Hitch). The film also features John Cho, Kim Jun Sung, Jun Ho Jung, and Grace Park. The film is projected to premiere in Korea and US in 2007.
Last month, she snagged the part of Missy, the feature film's seductive vixen, in Shanghai hotel appearing with Pei-pei Cheng, Hill Harper, and Eugenia Yuan and directed by Jerry Davis. Dan Marino is the executive producer.
Prior to that film, Jane costars in Tie a Yellow Ribbon directed by Joy Dietrich, a Korean adoptee, playing a young girl who faces depression and commits suicide, but through her suicide teaches her friend about the beauty of life. This film's world premiere will be at the San Francisco International Asian Film Festival as Best Narrative Nominee.
At the end of last year, Jane costarred in Feel with Billy Baldwin, Tom Bower, Kevin Corrigan and Clayne Crawford. Matt Mahurin, a renowned illustrator, photographer (won awards for covers of Times) turned music video director (U2, Metallica) makes his feature film debut. He currently has a documentary, "Like to Kill Flies", playing at the Cineplex Village in NYC after winning awards at Sundance. Jane's character Suzette, the "Asian Fantasy", was being surveyed for more profiled actors in the Asias, but Matt fought to give her the part because of her portrayal and talent. He also changed the character from Japanese to Korean because he wanted the character to fit her. The film will premiere at 2007 Philadelphia Film Festival.
That same year, she appeared in Cutting Room Floor, a feature film directed by Richard Roepnack, about a crazed director and a crazier group of people putting his film together. Jane plays the part of the director's British ex-wife and wardrobe designer who is still working with him, but with tremendous scorn.
She began her acting career with parts on The Sopranos, Law and Order SVU, Third Watch, Guiding Light and As the World Turns. She was asked to screen test for the soap opera, "Passions" in L.A., but declined to focus on film.
She began working professionally in 2003 in New York. She immediately signed with Cunningham (C.E.S.D.) and began booking national network commercials. She's been seen in Crest white strips, Motrin, Nokia, Tylenol, Payless Shoes, Flumist, Aquafresh and etc. She began working as a print model and has booked many national campaigns. She has been seen in Clinique, Nike, Avon, Aveda, Garnier Nutrisse, Loreal, Koleston (European hair coloring), Tag Body Spray, Redken Hair, Nestle, American express, Verizon and etc.
She attended NYU Tisch School of the Arts and Stella Adler Conservatory with scholarships. She was also offered a full scholarship at Donguk University in Korea (equivalent of NYU for theater in states) however, declined to focus on a career in the states.