Jun Sung Kim (Mike Juhn)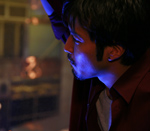 Jun Sung Kim is making his U.S debut starring, opposite John Cho (Harold and Kumar goes to White Castle), in the gritty, chilling gangster drama, West 32nd. The groundbreaking investment made by CJ Entertainment to expand its touch into America has brought together an impressive group of artists spanning Korea and America. Jun's considerable crossover appeal due to his multi-ethnic, multilingual background made him the ideal choice to star in this movie.
Jun was born and raised in Hong Kong and he is fluent in Mandarin, Cantonese, Korean, and English. He attended Wake Forest University majoring in philosophy and worked as a stockbroker before becoming an actor.
Jun's initial foray into acting came when a friend asked him to join the production of 'The Rocky Horror Picture Show' playing in Korea. The experience affirmed his passion for acting and performing therefore decided to pursue acting full-time.